MTYR News
The 2007 Montana Youth Rugby season has finished.
Casey Clark
Drummond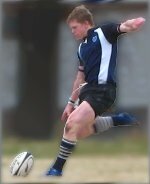 Zack Mannon
Simms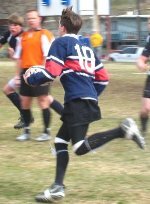 Cody turning the corner
Mud Dogs

Simms falls to Kearns of Salt Lake City
April 14, 2007
Pocatello, ID - On Saturday April 14, 2007 Simms travelled to Pocatello Idaho to square off against Kearns Rugby Club from Salt Lake City. Kearns is a regularly scheduled opponent of the 16 time high school national champion Highland Rugby Club.
The Kearns team wasted no time piling up the points. Early on they boke to the outside for a few long runs, then mixed it up by powering in close to the tryline. At halftime Kearns was up 32-0.
After the break Simms showed some serous resolve and great execution. The backs got up tight on defense and managed to pick up a loose ball and take it to the house from their own 22 meter line.
Relentless defense and good ball control helped Simms nearly shut out Kearns in the second half, and get a few points of their own. In the end, their second half effort wasn't enough to erase the deficit of the first and Kearns went on to win 37-5.