MTYR News
The 2007 Montana Youth Rugby season has finished.
Casey Clark
Drummond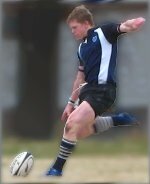 Zack Mannon
Simms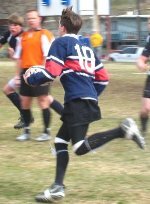 Cody turning the corner
Mud Dogs

Drummond 19 - Simms 10
March 31, 2007
Drummond - The 2007 Montana Youth Rugby season was kicked off in Drummond where the Trojans hosted the Simms Tigers.
Drummond took an early lead on a penalty play when eight man (8) Justin Alt dove into the tryzone and Flyhalf (10) Casey Clark added the conversion. Simms put together a solid drive ending in a penalty kick to make it 7-3. Soon after, Drummond Outside Center (13) Petey Carillo hurtled himself into the tryzone and Clark kicked another conversion to make it a 14-3 match going into the break.
Simms picked up the pace in the second half and put some pressure on Drummond, resulting in a try of their own followed with a successful conversion. Drummond responded and "walk-on" Blindside Flanker (6) Brandon Marsh added another try before Clark shanked the conversion to round out the scoring at 19-10 to hold off the late surge from Simms.