Representative players from clubs across Montana, Northern Idaho and the Spokane Valley will be traveling west to Corvallis, Oregon to compete in the Great Northwest Challenge. The Regio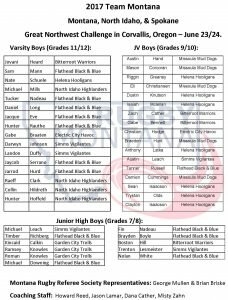 nal Challenge Tournament (RCT) is one of 5 tournaments nationally that showcase the top players from each region for college recruiters, USA Rugby High School All-American (HSAA) selectors, and is the beginning path to the Youth Olympic Games.
Players have been meeting for weekend practices since May getting ready for this opportunity. Recent years have seen players getting selected for college rugby programs and the HSAA program.
Teams in the tournament travel from Washington, Idaho, Utah, Colorado, California, Montana & Oregon to compete.
We wish all of our players, coaches, volunteers, and referees the best of luck this weekend!
A huge thank you to all the coaches who helped prepare the players for the weekend and parents for their support throughout the season!